Test 6
Have the adult or child being tested wear hard soled shoes and lie face down on a bed with their feet over the edge. Their legs should be kept together with their arms resting at each side.
During the test, the head must be facing straight down. This may be uncomfortable, but should be maintained for the duration of the test.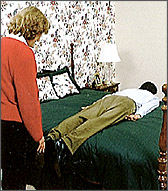 Grasp both of the feet and apply equal pressure between the heel and the arch with your thumbs. Check to see if one leg appears shorter.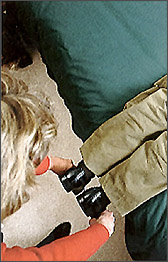 Test 7
With the adult or child in the position as described in Test 6, test further by bending the legs up at the knees and compare again.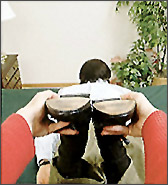 A contracted or short leg in either position is a common reaction to many types of spinal problems.